The ideas behind the current ideas…
My doctorate in Experimental Psychology (Oxford, under Donald Broadbent) has been tugging at my art strings for decades now, even after doing a subsequent degree in Fine Art (NCAD, Dublin). Research in Psychology has a go-to trick, which is to hold all variables constant except one. That way you can see what changing this 'independent' variable does to X, whatever X is. Below I describe some of the ways in which I've played with variables in art. The syndetic initiative described on the Home page grew out of this general approach, and its shortcomings.
So…
1 … do you need to see when you paint?
There were a number of public performances where I painted while blindfolded, under instruction.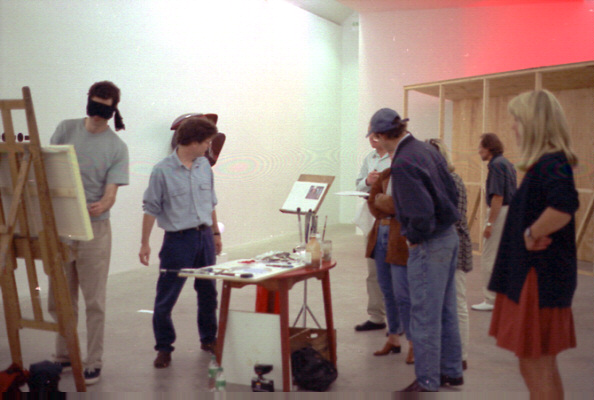 The results themselves are … odd: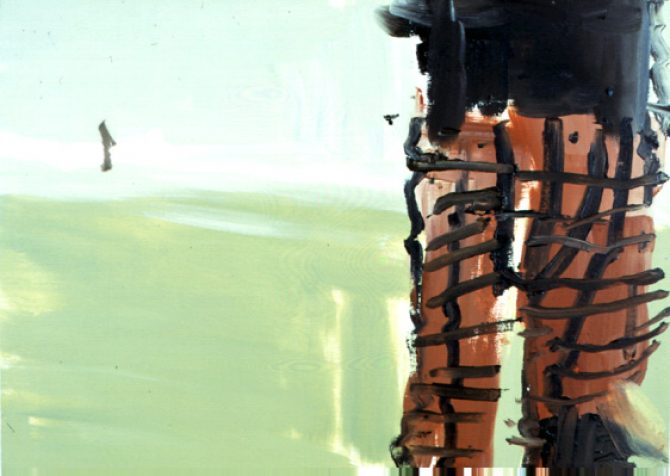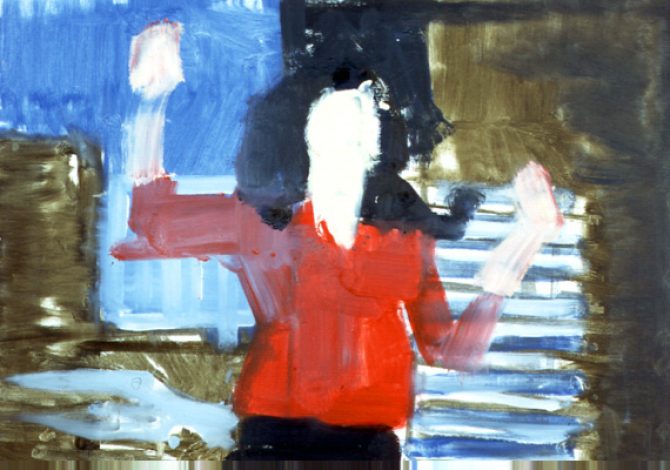 Variants are possible (especially as there isn't always a helpful accomplice to deliver instructions), as in 'blind-painting' – load up brush, look at image reference, shut eyes, find canvas, do the best you can. Results vary, but tend to be interesting – as here: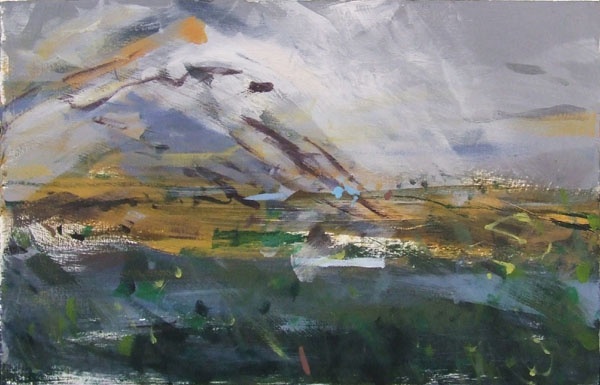 ---
2 … source material: nice vs not really?
To paint a 'nice' painting, start with an attractive something or other that you want to depict. Seems logical, but is it true in practice? In the days when photos were printed onto paper, I gathered a large number of 'bad' photos from family and friends. And it turns out that, with reasonably decent brushwork, it's hard to make a bad painting, even if the source material is poor.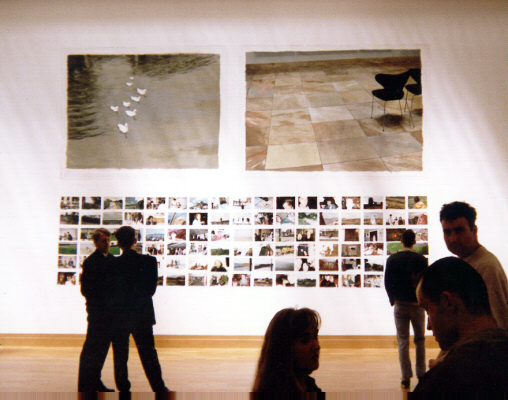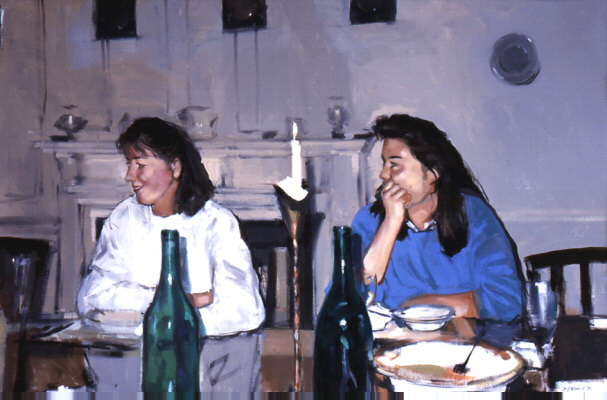 Sometimes I combined approaches, as in a this pair from a set of paintings done while looking or not looking: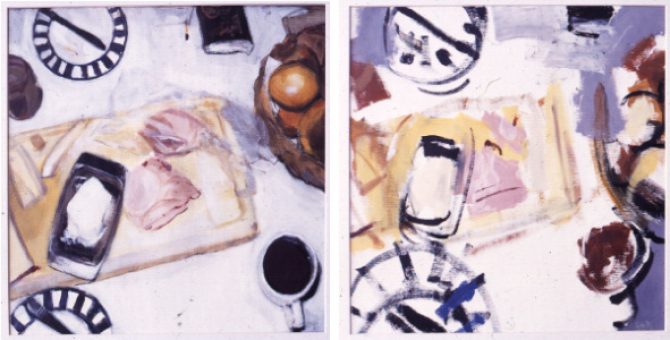 3 … an oil painting is something unique …
Yes and no…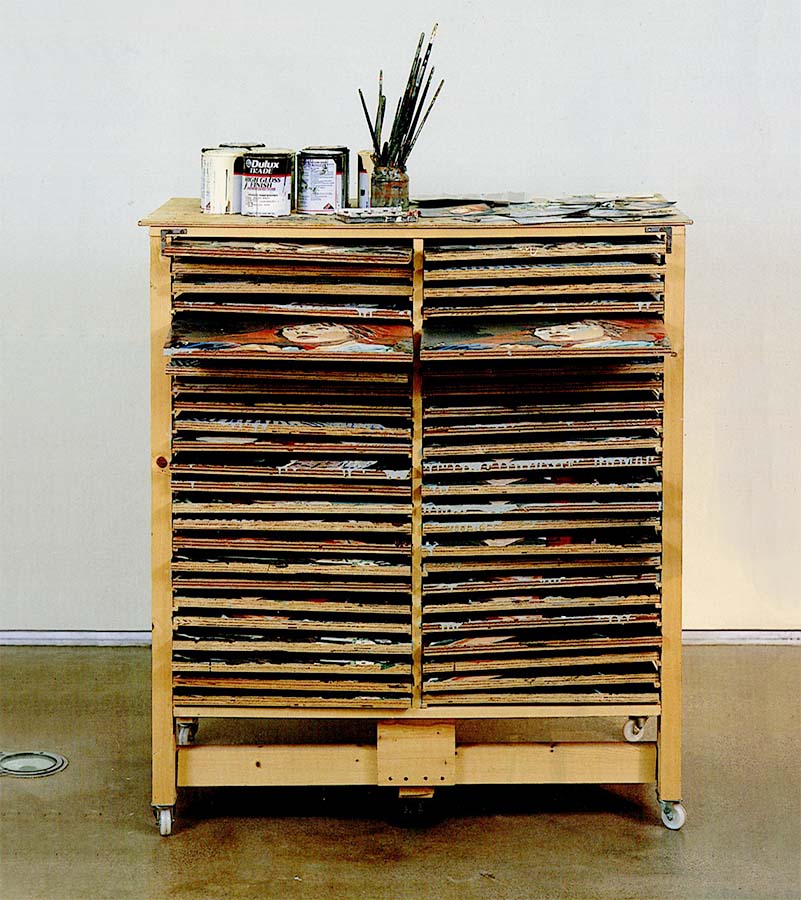 ---
4 … auteurship …
The Rachel, Rachel paintings just mentioned above mess quite a bit with auteurship, and auteurship has been a mainstay of the narrative of Western art since the Renaissance. Here's another way: if I'm painting blindfolded and under instruction, who is the artist? Moreover, the painting in the Kerlin blindfold performance (described above) is based on a photo by artist / photographer Cindy Sherman of herself as someone else.
And is this a self-portrait?: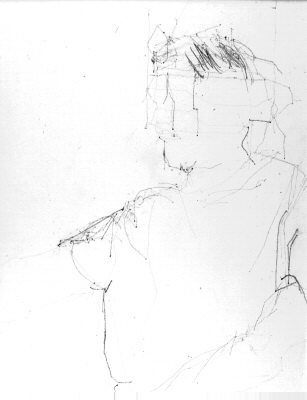 ---
So…?
…I take from the manipulations described above, among others, that is possible to move the probing of how we look at art into the artworks themselves. Forms and patterns and 'signifiers' can be played with in multiple ways. An artwork can, I believe, prompt the viewer to attend to the multiple processes occurring between artwork and viewer. That is the point that I want to pursue.
Peter FitzGerald, 2023